Earlier in the week, John O'Hearn and I fished in the Del Brown. During the Poor Boys I had been hearing reports from John and others that the permit fishing was astoundingly good, and I hoped this would continue through the tournament. John and I were slated to fish on Saturday as a prefish day–the tournament ran from Sunday to Tuesday.
Day One (prefish day)
With all the fish I'd heard about, I was pretty confident we'd find some permit to throw at. I needed to knock no small amount of tarpon dust off, and reckoned that this would be our opportunity to do just that. John and I were both confident that we'd get plenty of shots–so confident, in fact, that we mentioned that we would make sure to not catch two the day before the tournament as we had in the Merkin. Needless to say, we were getting way ahead of ourselves. We made a quick stop at an edge before heading to our first destination proper, and a pair of tails confirmed we were going to have no problem finding them. I took a shot that could have worked but didn't, and when the brief period John had allotted to this stop expired we headed on.
We found no permit in our first spot. Or our second. By our third we were starting to wonder what had happened, and in our fourth we realized that there was something going on (or nothing going on…either/or). The fish that had been around were not, and the only fish we interacted with by lunchtime was a tailing bonefish that fell off after its second run. We continued to search for permit, and were only able to find two fish that afforded us mediocre shots before making our way to the dock. On the way home we decided that we needed a change for the next day, though neither of us knew exactly what this would entail.
Day Two (second prefish day)
Our first day of fishing was clearly tough, and our first move on the first tournament day was to get as far away from the hard fishing as we could. John took us in a new direction, and again we stopped briefly at a place in hopes of finding an early tail to toss at. We indeed found what we were looking for, and I hopped out of the boat to wade after a pair of tailers that moved away from me as I approached. We got a good cast in on the fish, though neither played ball and I hopped back in the skiff. We had another small group of fish pass by the boat, affording us a too-close opportunity before blowing out. At our second spot we had a few fish that the clouds kept us from before a pair of fish gave us a clean shot. The fish wiggled after the fly for a while before finally committing, and John pushed the boat after the fish before starting the motor in deeper water. The fish came to hand easily, and John photographed our first fish of the tournament at 10:43, a 22.75 incher that put us on the board: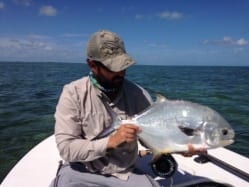 After we measured the fish we headed back to the bank, and John informed me that he'd watched Kat and Drew (who were fishing nearby) catch a fish just before we caught ours. We felt pretty lethal as we started back down the bank, though the only shot we had was at a single fish that was too close to do anything about in time.
John soon made a call to head elsewhere, and we took a run in search of a second fish. The first hour gave us nothing. We kept on, sipping slowly on our momentum. Our next stop brought us nothing still, and we kept on in hopes of finding a pocket of creatures. By the time we had two hours left in the day our momentum was on empty, and we just tried to keep our eyes open in case a fish showed up. The day expired without another shot, and we headed to the dock with our strap marked once.
There, we found there were a lot of people that had managed to catch fish the first day. Many were larger than ours, including fish of just under 30 inches by  Mike Ward and Don Gable. There was only one boat that had managed two on the first day, however, and it was Kat and Drew with a pair of 20 inch fish. Once again, Kat and Drew led the field after the first day of fishing in the Del Brown. Also catching fish on the first day were Joe Skrumbellos and Matt Fitzgerald, last year's winners. All up, there were 9 fish caught on the first day of the event.
Day Three (second tournament day)
With a field that had put up many single fish the day before, we felt strongly that we had to get something done on our second day. We left the dock and headed to where we had found fish the day before. Where yesterday there were two tails and a spooked school we found none. Where we had caught the fish we were confronted by clouds, and after three hours of searching we were unable to find anything at all. We found a school of fish that blew out on a cast in the late morning, and even though we hung around in expectation of their return we didn't see another fish for hours. We fished until lines out without seeing another permit, though we did see more than a few bonefish on some of the flats. To pass the time I cast in front of the bonefish schools, letting the fly fall lifelessly in front of them and listening to John reflexively tell me to "strip…STRIP!". Things got pretty dark, though the active non-catching of bonefish took the edges down a bit.
We never had a proper shot on the second day of the tournament, though it wasn't for lack of trying. What fish we saw were already blown out or too close for comfort, and we ran out the clock with our eyes peeled and prepared for anything. At the dock we found out that only three fish had been caught this day: one to put Steve Friedman and Ivar Bolander on the board, and another two from reigning champs Joe Skrumbellos and Matt Fitzgerald. Going in to the third day we were, at a minimum, down by two fish. John and I talked at length about what the plan should be the next day, and decided we'd decide later. Kat and I had dinner with Scott Collins and Ed Young before getting some sleep before the last day.
Day Four (last tournament day)
When John told me his plan for the day, it seemed like a good one. His intention was not to change anything major, make no huge moves, but stick with the plan from the last two days. While we hadn't been exactly soaking in permit, we knew there were enough around to make something out of. It was only two fish that theoretically separated us from first place, and we both had done more with less at some point. Specifically, John wanted to get into a place that we knew we had a good chance at feeding one that a boat had been posted up on the day before. We started off looking but not finding, trying to keep focused despite the absent reasons for it.
We spooked a close school of small fish that had snuck inside of us as we looked out, and John and I both kicked ourselves for missing the signs. In an hour we moved to the bank we'd talked about. It was without the boat that had been there the day before, and we picked our way down the grass hoping to find a willing partner. The fish didn't show until near the end of the spot, when a small school of large fish showed over some dark patchy bottom. I threw a cast upcurrent of them from as far away as I could get away with, and we watched a few long dark backs fall in behind it. We didn't come tight on our first cast, and when the fly was out of them we got it back in as fast as we could. On the next long cast the fly didn't turn over completely, and I stripped out the slack as best I could. Immediately we were tight, and the fish made a fast run away from us before circling back. We were able to stay connected throughout the circles, and after a few minutes of fast racing the fish started to give out in some deeper water. We realized this fish wasn't as big as some in the school, though it was still nice. We netted it easily, and when we put it on the strap it didn't make it to the 30 inch mark we'd been hoping for when we hooked it. Here's what it looked like: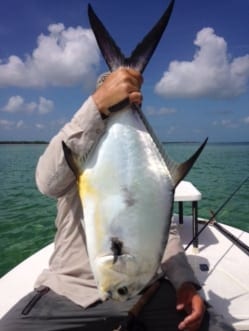 We measured the strap against our 12 inch mark, and reckoned the fish was at least 25 inches long. With our 22.75 from day 1, and taking in to account the three 24's that Joe and Matt had, we were potentially in second place: one standard size permit away from theoretical victory.
For the rest of the morning, we stuck with our plan. John had us in places that looked perfect but held nothing. After the tide clocked out, John informed me that he had a plan for the early afternoon that might include a large fish for us. He brought us to the spot, and within a few minutes we saw a giant school of fish mudding in some deeper water. The first cast in the group got a strong response, and when I came tight to some floating grass we were both convinced that one of the fish had eaten. We got another cast into them before they spooked off, and with that the fish were gone. John soon moved to a new place, where we got into position for a long pole to finish out the clock. We poled for an hour, seeing only a pair of fish that didn't afford us a shot before the time ran out.
Back at the dock, we found we were one of only two boats to catch fish on the final day–Ivar Bolander and Steve Friedman had caught a small fish as well. Joe and Matt's lead held, keeping them in first place. Kat was pushed into third by John and myself, and despite the normal frustration of second place we were happy with our effort. I'd like to mention how happy I am for both Joe and Matt, who repeated in one of the toughest tournaments around. Hats are also off to Kat and Drew, who repeated their third place finish from last year. Big fish awards went to Don Gable and Mike Ward, who's 29.25 incher from day one stood as the largest.
Tomorrow I'm headed out for a morning with Jared Cyr. Hopefully, we'll have something to report about.
nathaniel