Fishing with John O'Hearn Last Week/Two Days with Ian
Last week, after I returned from my tree diving adventure with Steve, I had a couple days booked with John O'Hearn. Our target was permit, though the same weather system that had plagued us in the Everglades continued to shed its lack of light on the lower Keys. John and I went out anyway, and took our time looking for some permit. The clouds made it tough but John and I have learned to be tough back, and despite the weather the first day had a couple opportunities to show for our time. We didn't get any to bite, and with the next day slated to be worse than the day before we rigged up some 2 pound tippet in hopes of catching a record permit on the (ultra) light stuff. If you have to eat it, might as well gobble I guess.
We threw two pound all day, and actually had some decent fishing in the morning. I suspect that if our range hadn't been limited by trying to turn over a leader that included such gems as two pound and five feet of elastic shock gum, we might have gotten closer to the fish than we did, but as it was the fish eluded our deliveries (or our deliveries eluded the fish–either way.)
After the flurry of activity in the morning, we stepped into the afternoon without a fish. The day wore on as the fishing slowed, but we kept with the light leader in case we came across a shot. We saw nothing until the last stop of the day, where John had us upcurrent of a small group of permit that looked perfect-sized for light line pursuits. I threw into the middle of the hungry knot, and we watched as a single fish rose up and wiggled on the fly. John and I both saw this as a clear eat, and I stripped to come tight. The fish shuddered after the fly as I stripped, and then the school took off for the safety of deeper water. We couldn't believe that, despite every indication that the deed had been done, the fish was unattached. On principle we changed flies, and had another fantastic shot at a small group of slightly larger fish. This shot also did not work, and we were left scratching our heads about what to do next. We didn't have another chance at redemption before we had to call it a day, and ended our efforts with a sadness that only permit fishing can precipitate.
After the day with John I went out for a few hours in the morning with Ian Slater. We threw two pound to start, left over from the day with John. We had some tough fishing in the first part of the morning, and when the two pound got a casting knot I grabbed a regular rig and stuck with that for the rest.
We had a school of permit that allowed us to get into position, and when the fly landed we were rewarded with a bite from a nice one. I fought it until Ian grabbed it, and we held it up for pictures: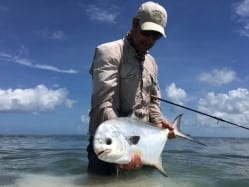 After catching this one, we felt we could get another. While we had a few more shots at singles and a few schools, but were unable to connect again before Ian had to go to work in the real world.
The next day we fished again, and this time the weather got the last laugh. We were chased around by lightning after getting a few low quality shots in the afternoon, and ran as far away as we could to stay away from the fear. We ended up in a place not exactly where we wanted to be, and saw a single tailing fish. I walked a few hundred yard of great looking flat before we ran out of light and headed home.
Up next is the Superfly results/report, and then we leave for Belize.