After the March Merkin I had the chance to fish a pair of days with Brian Helms in Islamorada. While driving that far to fish for a couple days bears its own gummy grin, it was worth it to see some new water and spend some time with Brian. Once again my booked days coincided with some weather that was less than stellar, but we were committed to trying to catch an Islamorada permit and had no issue with our inability to do anything about the weather.
Our first day of fishing brought with it some fish to throw at, and while not all of them were permit the pace was solid and the fish large. We found some large barracuda to play with between permit shots, and while we had our chances to get tight to a permit my Key West stuff didn't seem to go over too well with the fish in the great North Country. The following day the weather was supposed to turn further worse, and we put our minds to something we could do that would deliver the requisite feels we were after. What we settled on was throwing 2lb tippet at barracuda, our eyes on the 20.4-pound barracuda that is the current record. The man that caught it is named Herbert Ratner, Jr., and here's a fun fact: he's a goddamn superhero, as far as I can tell. The next day we hooked six barracuda, one of which might have been a few pounds shy of his record, and every single one of them broke off before we could clear the line to the reel. No stranger to 2-pound tippet, I figured we would have a chance at least to try things with a non-record-sized fish, but we clearly have more work to do in this field before I can report anything other than total failure on these pages.
Our permit fishing was also good, and while we didn't catch one there was a great highlight from the day that's worth mentioning. Two permit were crossing the flat in the cloudy light towards us, and after a half-dozen casts in their direction they got by us. I was no longer convinced that they were permit, instead thinking they were baby tarpon, and when a pair of tarpon circled back from the direction we'd chased them towards it seemed like I was right. Brian asked what the third fish was, a new arrival, and we were both certain that this fish was a large permit. I threw at this one a few times, and on a final cast got the leader over its shoulder and let the fly drop to intercept its interest. Soon I was tight, and the fish skittered off. The fish broke off nearly immediately (clearly the result of a sweet casting knot in my class), and soon Brian mentioned that it began tailing once again. I grabbed another rod and threw at it, spooking it for good on the second cast.
This whole series of events was incredibly odd, and the only explanation we could come up with is as follows: the first two fish were tarpon, and we mistakenly believed them to be permit. The permit showed up with the tarpon after they circled back, or met up with them as it traveled the line they just had. The cast I made to the fish that came tight was good, but what explains the tailing after we had hooked it was that the fish had been foul hooked in the face and it was trying to get the fly out by rubbing its nose on the bottom. Strange stuff, but the only way we had of explaining everything that went down.
We were briefly tight on another fish in the afternoon, but I wasn't able to make things stay connected.
After fishing with Brian I had a day with Ian Slater, and the wind was heavy enough to keep us from tarpon fishing. We instead chose to fish for permit and barracuda, and this time tried 4# tippet. Our only bite on the 2kg was from a fish that again cemented Herbert Ratner Jr's reputation as either a professor or a mutant, or both: we couldn't see our attachment to the reel before the fish broke the tippet.
We permit fished some too, and as the weather has been tougher than normal for my days on the calendar this year I was starting to feel the frustration of things not working out. After a few shots at permit, however, we were thrown a dome-faced bone in the form of a nice permit that settled my feelings of loathing: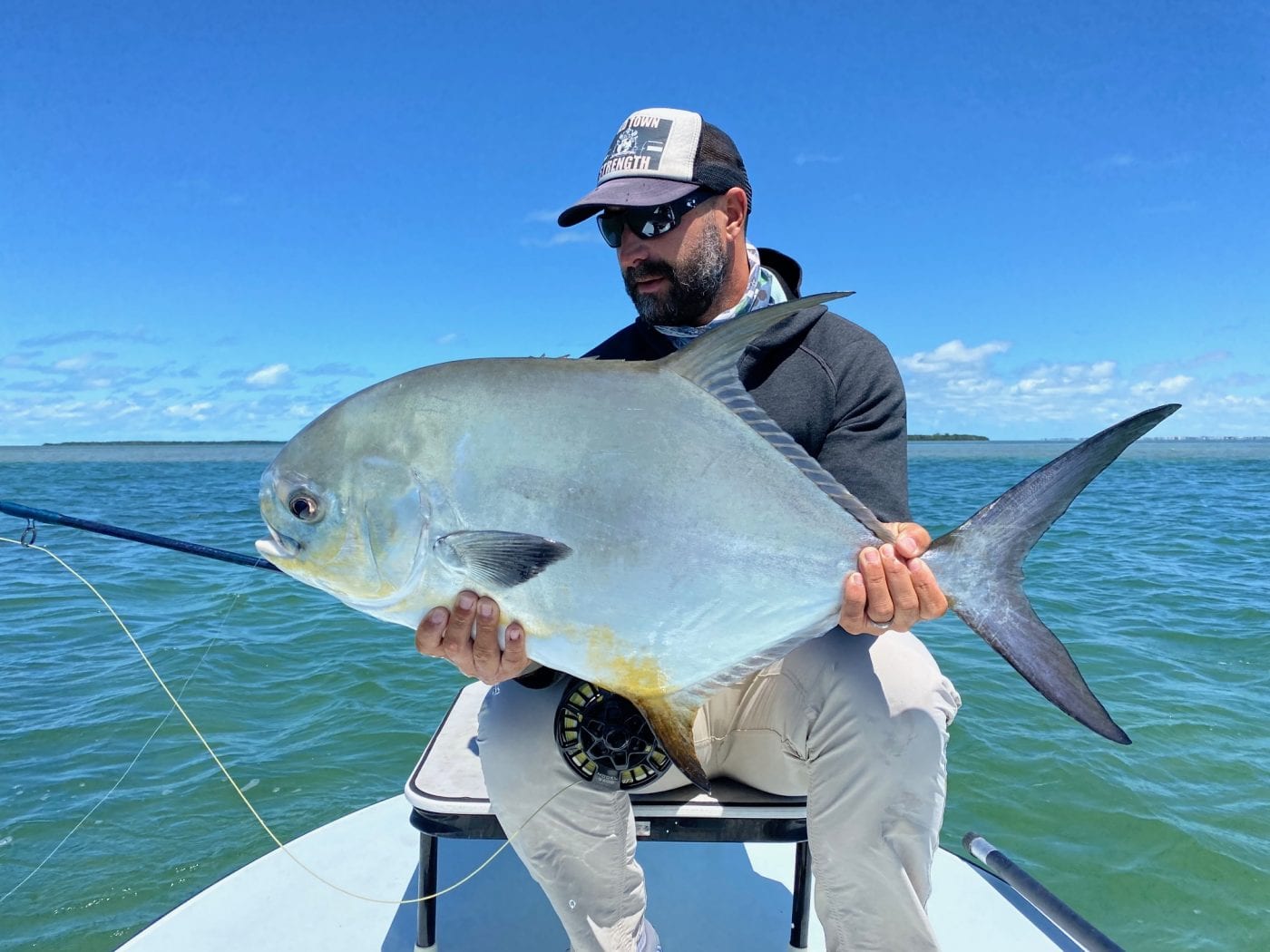 We had a few more shots at permit and cudas but none resulted in anything worth reporting here, and at 6 we were sick of the wind and headed for home.
Tomorrow I'm fishing with Ian once again, and the wind looks like it has no plans of subsiding. The next day I'm heading to Islamorada to fish with Julian Robertson and Rich Campiola, and then at the end of the week I've got another pair of days with Ian to fish.
More to come,
Nate