Fishing with Simon Becker, Ian Slater and Howard Davis
After the trip with Steve and Ian I spent a day on the water with Simon Becker. Kat's been having some back issues, and after the first of two days she needed to take a break–I was substituted for Kat and ended up on the water for an unplanned day with Simon Becker. Given the found feeling of this day I was more than happy to try some new things on the water, and Simon and I enjoyed a day of working on new hooks for tarpon in addition to some new flies for permit.
It's a great luxury to be a part of something as cool as trying new permit flies with Simon Becker, and while we didn't get any to bite we had interest from nearly every fish we threw at. We also tried some new hooks on tarpon, and (predictably) some held better than others. I'm trying to sight in some new hardware on the terminal end of my tarpon rigs, though in a game where even the right hooks will sometimes fail this is far from a perfect science. We had fun straightening some wire and eventually stayed connected to a larger fish that threw a larger hook–typical fun for early season tarpon fishing with a good friend.
We stayed late, hoping to find some more permit, but in the end we were unable to get more shots in the late afternoon and instead talked fishing in the failing light. As always it was a pleasure to spend a day on the water with Simon, and I look forward to more days chasing more fish with him as always.
After this day I was invited to fish with Ian Slater by Howard Davis, my annual invite from the man known as the Great White. We were once again cursed by tough weather, though again despite this we were able to get a fish to hand. Howard generously gave me most of the shots, and from one of these we were able to get a bite from a single animal that was sitting on the bottom behind the boat. I had to fish blind from Ian's instructions to get the geometry right, and after the fish ate the fly it ran under the trim tabs in a fast effort to free itself. Despite this abnormal bite we had a pretty normal fight with the fish, and when Ian grabbed it we took a picture to mark the moment: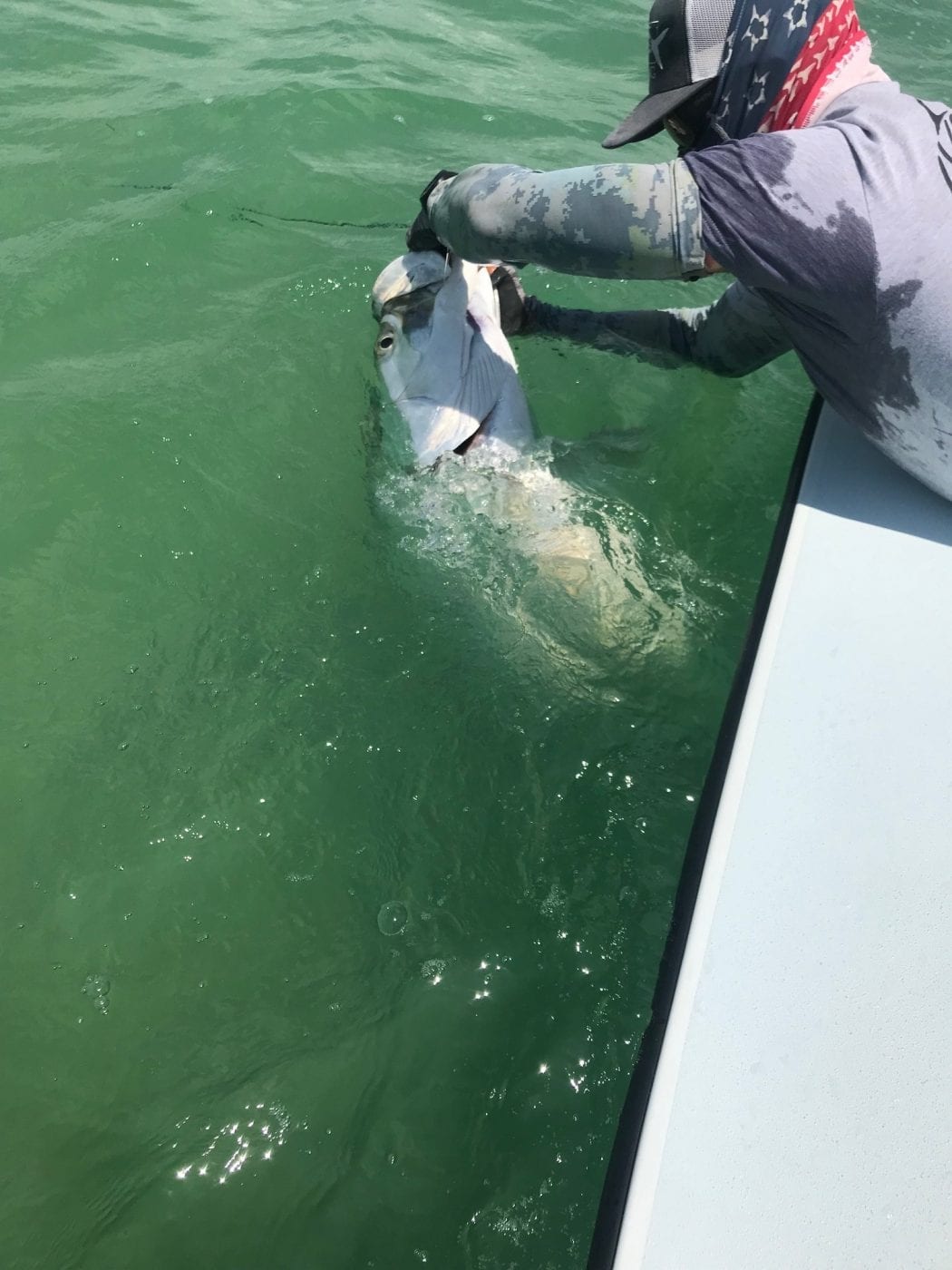 Yesterday I fished again with Ian Slater, and the weather remained sadly marginal. We started with a few shots in the early light, pulling from a rolling pack of fish a bite from a nice one. We set off after it, feeling like this was as good a thing as any to start the motor over, and within 20 minutes we were aware that things were going to be tough on this tarpon. After 30 minutes the fish still had gas in the tank, and I just kept running the plays until something either worked out or went wrong. The tug continued until the fish finally relented and Ian got a hand on the beast, which we estimated at about 120 pounds: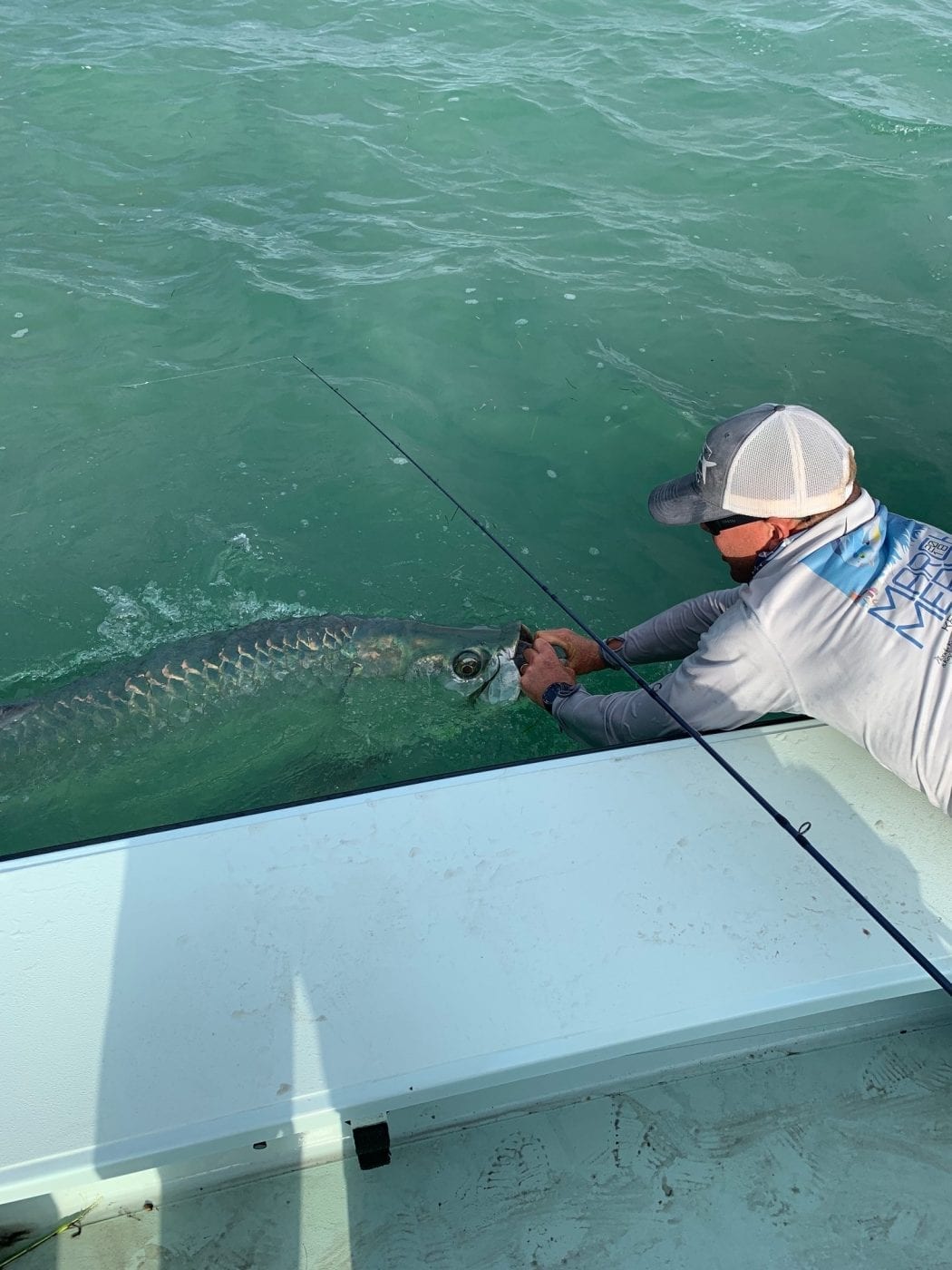 After this capture we kept up our efforts, though in the wind and clouds it was far from easy. We tried to coax a bite from some resident giants glued to some light bottom, but these fish kept their fly-biting desires to themselves while we were around. We fought a smaller fish to the boat in the early afternoon, losing it to an opened hook as it took a rattling leap away from Ian as he tried to grab its face. Other than that fish we were without another grab, and we had to rely on our morning monster to keep our spirits high on the way home.
I've got more fishing planned early next week with John boy, and I'm looking forward to spending a day on the water with him as it's been a while since we last fished.
Stay tuned,
Nat