Fishing with Ian and special guest
Earlier in the week I fished for two days with Ian Slater, and on the first we were joined by our friend Josef Borski. The weather was turning around after a cold front, and we were hoping that this would be a day that things cracked open. We started early with the same goal we usually have this time of year: to catch a permit. To this we also added a quiet hope that Josef, specifically, would get one. This was especially interesting to us since it would represent his first, and after he lost one with Ian and I a few years ago we were doubly expectant of Josef catching one on this trip.
Our fishing started early and from the beginning was marginal, if consistent. We had a shot at the first three places we stopped at, and on each I felt that we were close to things working out. Josef caught a bonefish in the late morning, and we threw at the barracudas that were large enough to warrant a rod swap. As the day warmed up the fishing continued to improve, and we soon left the cudas and bonefish alone in our focus on permit.
The afternoon brought us a few fish that showed up too near to do anything about, and we had a fair amount of frustration between us. After timing out on these fish Ian moved us for a final look for some tailing fish in the late afternoon. I had one shot at a single fish before Josef got up to finish the day out, and in an hour or more he had a handful of shots at shyly tailing permit. Three times we all felt that things were going to work out, but in the end each of these was able to avoid being a volunteer for Josef to get his first.
I'd like to mention here what a pleasure it is to fish with a young, motivated angler like Josef. I'm sure we'll be seeing more of him, and even if we aren't able to get him his first we will definitely get some together in due time.
Left to our own devices on day two, Ian and I started early and had a great shot at a tailing school of permit to start things off. We got the fly in play a long way off, since they had given us a downwind shot, and as soon as the fly landed I watched the lead fish push down and root after the falling fly. I wasn't able to come tight until I messed with the line some, and when I did I was already tight. I did what I could to set the hook, but between the distance and delay the fish was able to get rid of the hook before the attachment was serious. We kept at it, throwing at the school as they passed by and thereafter hoping for more to come. More never showed up, and after a half hour Ian decided to move us to a new place. We had another shot at a small group of tailing fish, and we watched as the fish wove toward the fly. Unbelievably, after seeing the backs squiggle hard a few times on the fly, we were again not tight. Ian and I couldn't see a reason why we weren't, though despite the frustration we were confident that we were running the kind of plays that would result in success.
The afternoon arrived, and after Ian made a move we were immediately in the presence of some truly giant animals. I had a shot at a fish as soon as we arrived that appeared to eat, though I never came tight. The frustration grew. Another shot at another giant was foiled by the wind and a weak back cast, which threw the fly in to the rod and broke it off. I grabbed another rod from the gunwale and threw the new fly at the fish, which tracked and shook its way after the fly. Once again, we were left fishless and wondering what the hell was going–and what we could possibly do about it. We re-rigged the first rod and got back to it, changing nothing and hoping that the plays would work.
The next shot was at a slightly smaller (though still huge) fish, and this time the fish fell in behind it once again. I left the fly on the bottom, promising myself some rare self control, and waited to feel something before I responded. The fish parked and stared at the fly, and as soon as it opened its mouth we got the hook buried and cleared the line. The fish took off for the nearby channel, and we started the motor to give chase. It was clear it was a large one, and after 15 minutes of hard pulling Ian grabbed it. We were incredibly excited to have such a giant in our hands, and our satisfaction was amplified by the fact that we'd fished through some true frustration to get our hands on it. We weighed it at 28 pounds, as big as the biggest I've ever caught, and Ian snapped some photos to mark the occasion: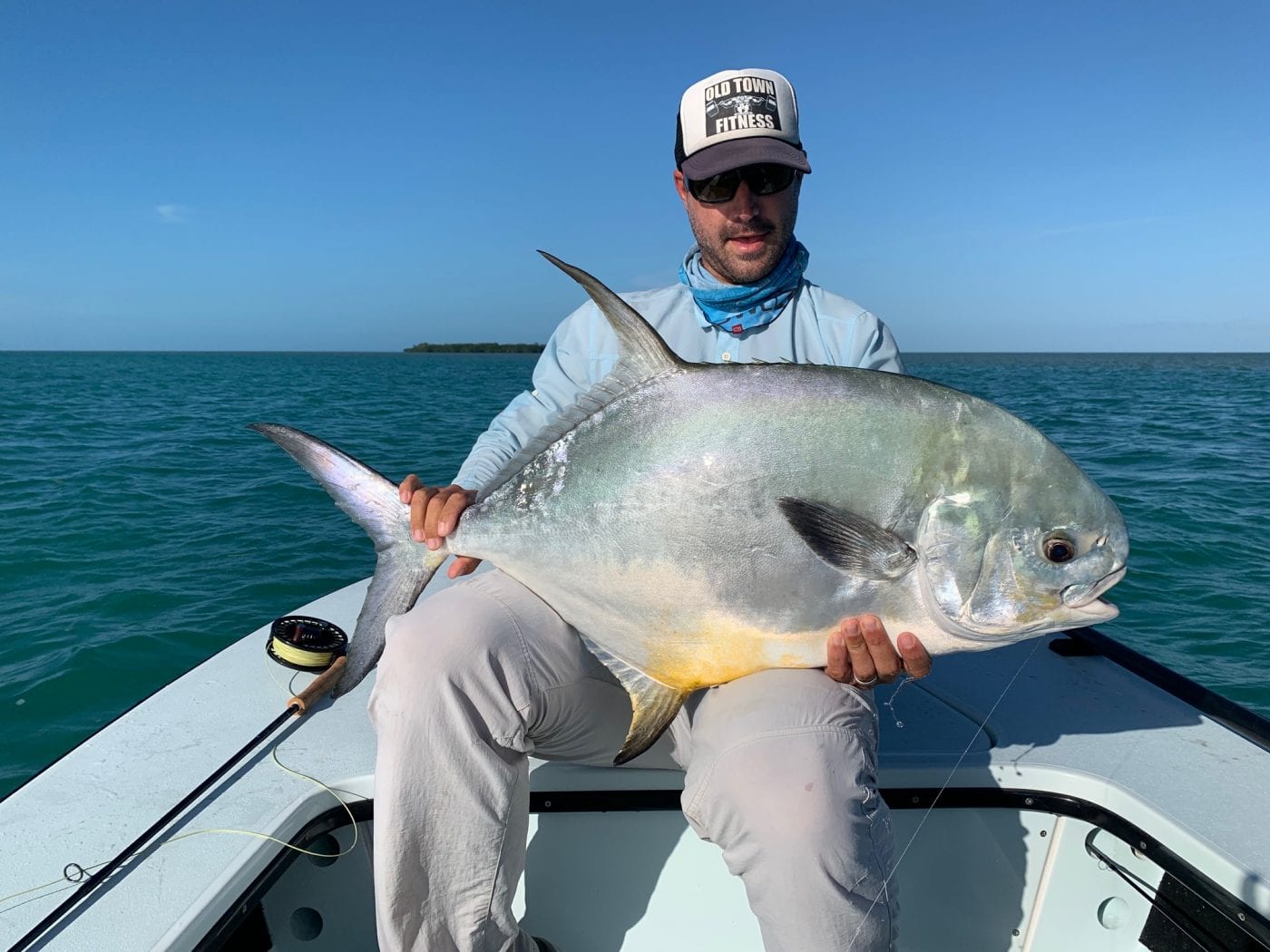 After this we were ready to catch another, though after looking where we'd hooked it for another giant we moved and tried elsewhere. We had two shots at spooky fish before the light got low and we headed home, still a bit euphoric from the capture of the giant in the late afternoon.
I'm heading out this afternoon with Nick Labadie, and tomorrow I'm fishing at Wes Smith's guest with Ian Slater. In other news, Kat caught a fish yeasterday with Brandon Cyr that was only a few pounds shy of the ladies 6 lb tippet permit record, and I'm incredibly proud of her.
More to come, and next week I'm with Chad and John in search of the 4lb permit record on Tuesday and Wednesday before Chad and I go up to fish with Steve for the six.
nate