Offshore with Chris Trosset
After a great many months of discussion regarding an offshore trip together, Chris Trosset and I finally made it happen this week. We were joined by Ryan Shapiro, a friend of Chris' that owns the Thirsty Mermaid. Our target was a wahoo on fly, which has been on my list of like-tos for a while. We met early at the dock, and headed out to get bait. At our second stop for pilchards we saw a large group of people on the shoreline, refugees just arrived from Cuba. The Coast Guard had already been alerted, and as such we got our bait and headed out fishing. I'm not sure how I feel about leaving the people unattended, though it was clear that they were in no need of immediate assistance and we called in the sighting to the appropriate authorities before heading offshore. Living in a place that's as heavily mixed both politically and internationally as Key West, sometimes things happen that I don't have a reference point for.
Our plan was to drift and chunk for wahoo, same as the spear fisherman. Should one show up, we would be prepared to throw a chunk-shaped fly at it and hope for the best. Our first drift brought us nothing, and we made another in the same area. Our second drift brought us again nothing, and our third the same. By mid-morning we decided to move elsewhere and look for things other than wahoo, and it didn't take Chris long to make a stop that brought us blackfin tuna and bonito behind the boat. We fished for a few hours here, which brought us a mutton snapper courtesy of Ryan and a few blackfin. I got a tuna on the fly, which we held up(side down) for pictures before putting on ice: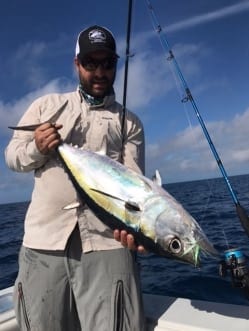 Ryan continued to drift chunks back into the slick, and in so doing got ahold of a few nice yellowtail snapper for the box. We caught a shark on a heavy rod and gave it a good talking to next to the boat before releasing it, and when we'd had our fill of the tuna fishing we relocated for some bottom fish to round out the upcoming menu.
I left the fly rod on its own in pursuit of some meat fish, and caught a large dog snapper for some light meat. Ryan continued to catch his share of yellowtail, every so often hooking in to a larger critter that broke him off. We looked around at a few more shallow reef spots before heading home to get what was in the box onto the table.
I had a great dinner with good friends, using my Hurricane Hole gift cards from last year's Cuda Bowl to pick up the tab. We were joined by both Aaron Snell and his family, as well as John Benvenuto and his girlfriend. My old roommate Dave came along also, and we had more than enough food to fill the void.
Tomorrow I'm headed out with Ian Slater, and I'm guessing we'll be fishing for permit and barracuda. The weather remains atypically great, and we have not yet been visited by a major cold front to put the cudas on a shallow track.
I'll likely get out a day or two more before we leave for New Zealand on the 27, and if these reports go dark during that time they'll turn back on when we get back. I have lots planned in January–a trip to fish with Steve for the six, a visit from Michael Hetzel, barracuda (if we ever get a cold front), etc.
Reports will follow
nathaniel