Sugarloaf Showdown Results + Our fishing
Over the weekend the Sugarloaf Showdown wrapped up. Kat and I again fished with Doug Kilpatrick in this tournament, one that's become a fun break from the seriousness of things like the Gold Cup and the March Merkin. I will add, however, that like most tournaments in the Keys it's becoming more and more competitive.
On the Wednesday before the tournament started I was invited to fish with Brandon Cyr and Nick LaBadie as they pre-fished for the event. We started at 8:00, heading out to a few places that Nick thought might hold a permit. We didn't find any early on, though in the late morning saw a large barracuda that gave us a few chances to get the fly where it needed to be. I was up for this fish and had the best seat in the house when it sped its way after the fly, missing it twice before eating it confidently within 30 feet of the boat. It ran away from us and took to the air a few times before circling back, throwing its front half out of the water and thrashing up some foam. We soon got a hand on the big girl, getting some pictures and enjoying the first wolf of the season: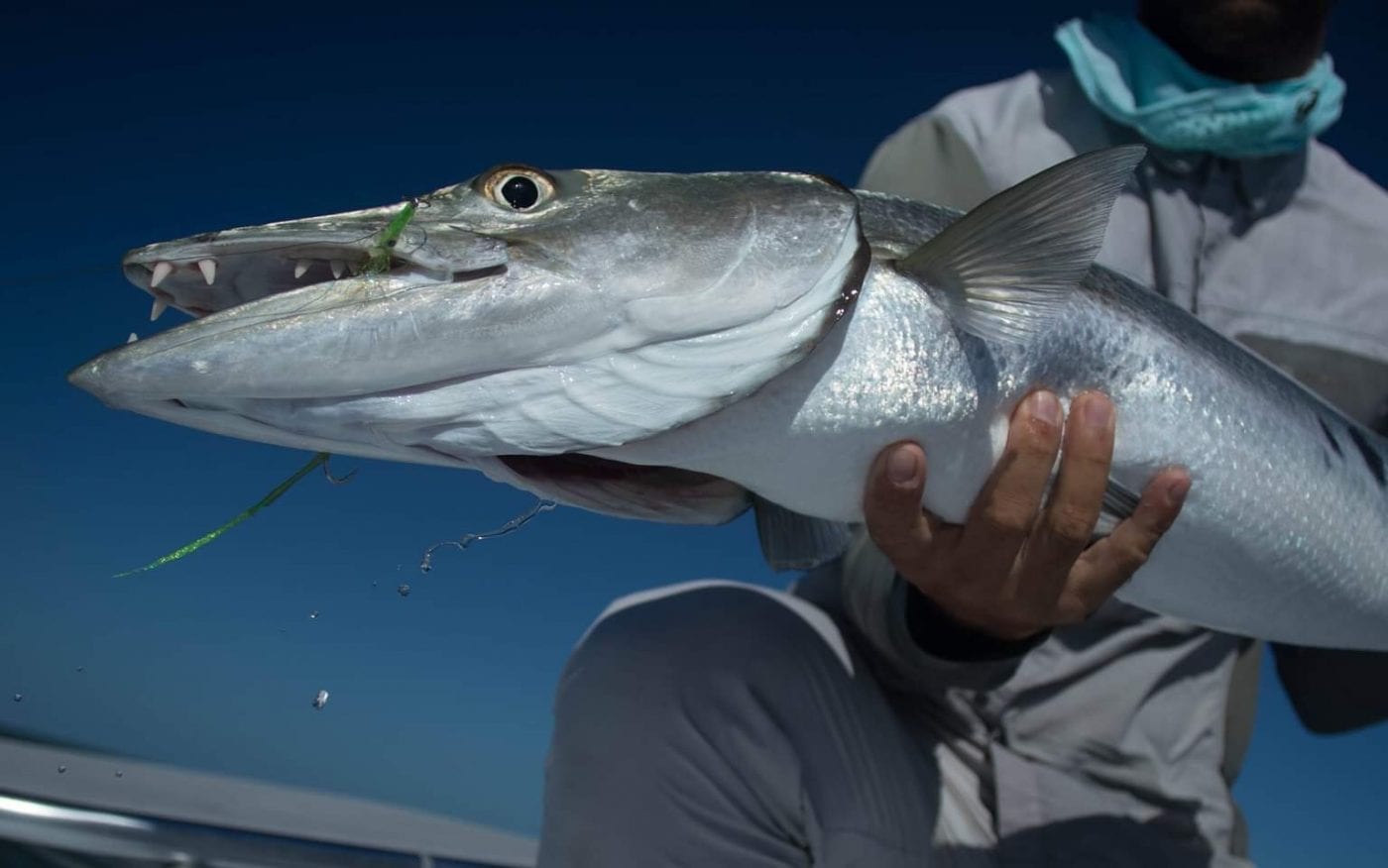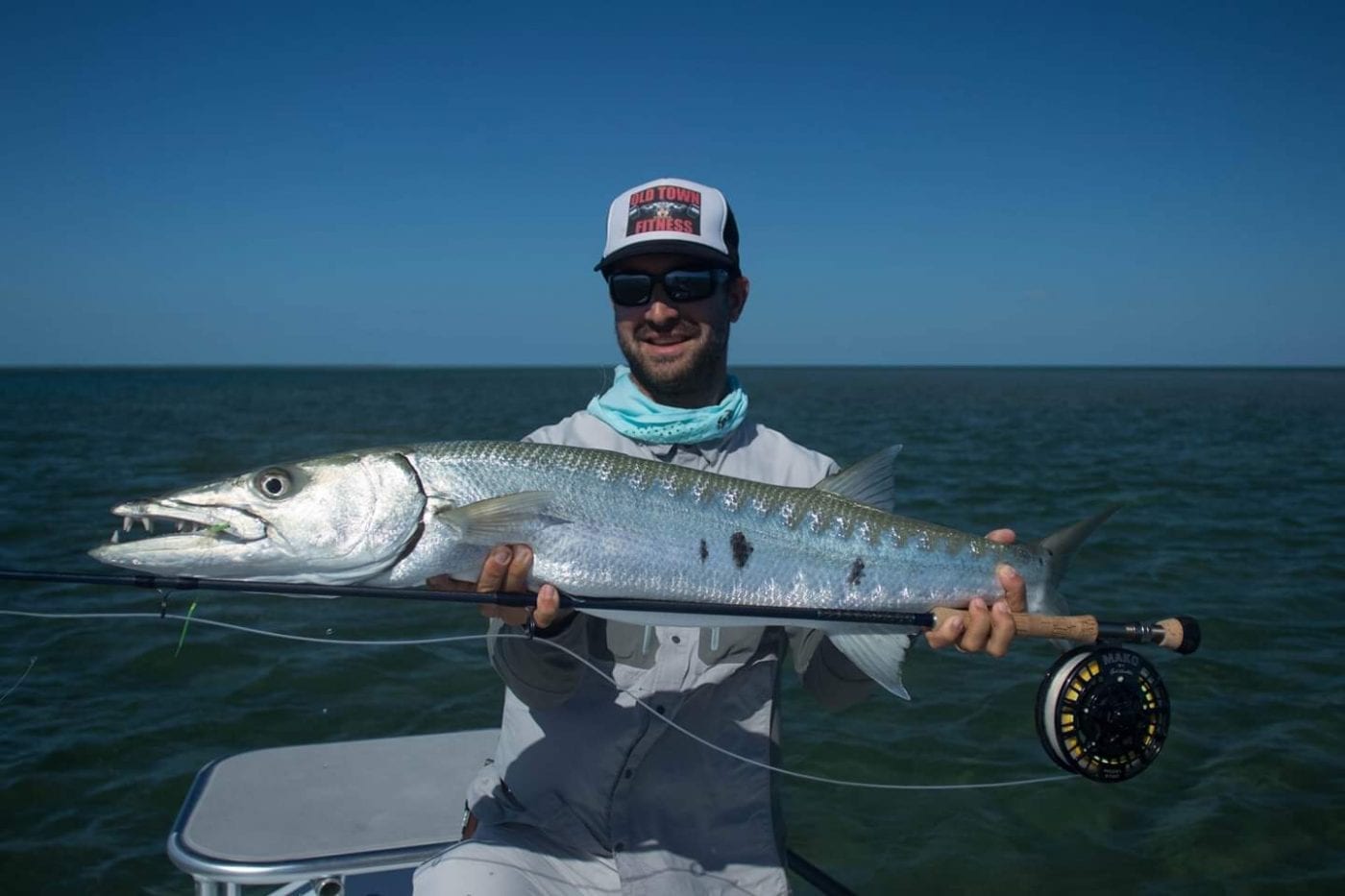 We kept moving, Brandon and Nick picking apart some places they wanted to fish in the tournament. We saw a few permit too late to do anything about, then watched in awe as a giant jewfish ambled down the bank towards us. We threw both the permit fly and the barracuda fly in front of the mottled blob, hoping for some engagement, but unsurprisingly the giant grouper continued on its territorial boundary walk without giving us or our silly feathers any attention. We moved on thereafter, hoping to find some more shots at permit or barracuda. One of us stayed on the bow with one rod, and another on the cooler with the other.
At our next stop Brandon poled and Nick fished for barracuda, which left me with the permit rod in case one showed up. I had a chance in short order, though after the fly landed a little too close the fish trotted away from us. Soon another showed up, and this time the fly landed right. The fish did its pretty little thing, and after it got down on the fly I stripped tight. The fish didn't run right away and instead left me to fumble with the slack line at my feet, and eventually I had to reel up the slack myself to get the fish on the reel. Once we were slack-free things stayed strange: the fish moved erratically, and since this was the first fish I had been hooked up to since the 2-pound record in August I was very interested in taking it through to the end.
Another fish showed up while we were fighting mine, however, and the boat couldn't resist the opportunity to throw at it for a potential fly-caught double. I held my rod tip in the water, hoping that these antics wouldn't cost us the bird in hand, and while Nick threw at the new arrival a few times it soon became clear that the double wasn't going to happen. I got my fish in to range and Nick grabbed it–fun stuff, and a fish that meant a lot to me after the two-month permit dry spell I've been in since the record in August: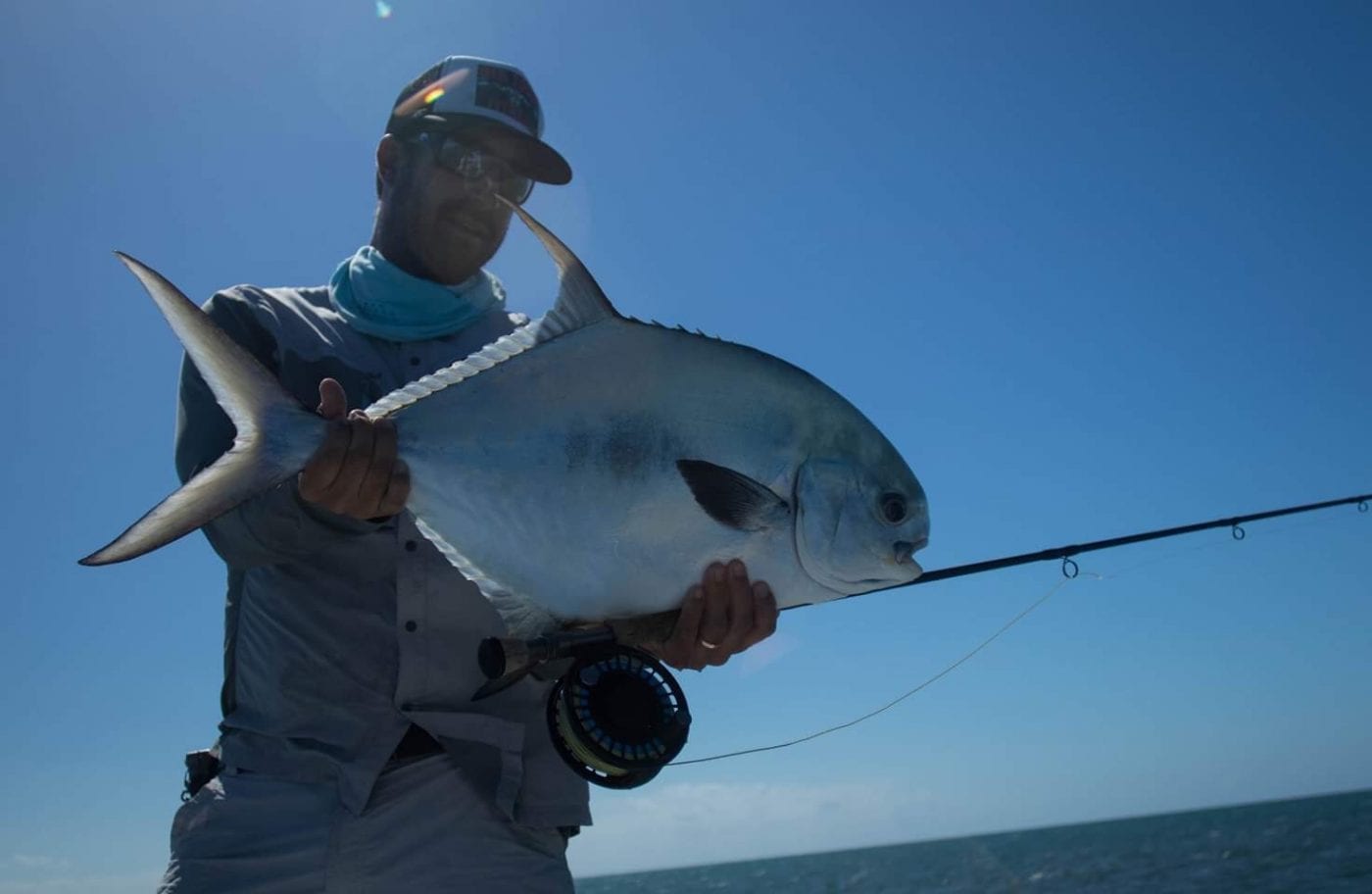 We kept on with the day, moving around and leaving places that Nick and Brandon wanted to fish hard in the tournament. I caught another large barracuda, though this fish refused to pose for photos, and Brandon had a great shot at a large permit in some deeper water that showed hard interest in his fly before blowing out. We finished far from home in the early afternoon and enjoyed a hard ride back to the dock in the growing wind.
I'd like to thank Brandon and Nick for inviting me along with them, and after fishing with them I was not surprised by the results of the Sugarloaf Showdown (which they won decisively).
As for our fishing in the tournament, we had loads of fun. The first day Doug found us a large group of tarpon (which don't count in the event), and we threw the barracuda fly at them as we covered water for some teeth. He then found us a relatively unexpected group of bonefish, and Kat soon got us on the scoreboard with one. I caught another after losing one, and then Kat lost two in a row to a bent hook. I caught the third on our way out, and as we had maximized our bonefish points we then left to find a permit. Kat was up for permit, though before we saw one Doug spotted a large barracuda that waited politely for me to get another rod stripped out. The fish did everything perfectly, following the fly and then eating it solidly. We fought the fish to the boat for photos, then decided to give the balance of our day to permit: with two of the three species down, catching a permit on fly would give us a rock solid score that would be hard for anyone to beat.
The permit fishing proved to be tough, but in the middle of the afternoon Doug found us a fantastic shot. Three fish tailed hard in the falling tide, and I got out to wade towards them. Despite the perfection of the opportunity I was unable to capitalize on it: the first cast landed too far from them, and the second too close. The fish swirled around the fly before spooking towards me, and when they realized how scary things really were they fled quickly to some deeper water. I hung around waiting for them to come back, though after 5 minutes I got back in the boat with nothing more than a little self loathing to show for such a great chance. The second shot we had was far from perfect. We saw a flash from a permit in some deeper water, and Doug poled over to inspect it. It had clearly been a permit, though we couldn't see where it had gone. The only place it could have been was on a dark spot in the middle of a sand hole, and by deduction we threw a fly upcurrent of it as we approached. The fly settled as we realized there were two fish hiding on the grass, and when they spooked we were tight to one. I couldn't believe our luck to hook a fish out of such a low probability shot, but when the leader broke as the fish ran off I was reintroduced to the sadness that is permit fishing. The tippet came back with a pigtail in it, and I can only assume that I'd put a casting knot in the leader at some earlier point that had weakened the tippet. We re-rigged and pushed on, but this was the last permit shot we had for the day. We stopped fishing at lines out, having pieced together only a few unsuccessful barracuda shots. At the dock we found out that Brandon Cyr and Nick Labadie had caught all three species, their bonefish being on fly and adding handsomely to their point total. Last year's winners John Benvenuto and Scott Christian had three bonefish and two barracuda on fly, putting them slightly in front of us in second place. We sat in third, needing a permit to sew things up.
The second day of fishing added some wind and clouds to the equation, and we were unable to attain much momentum. We bumped around in the morning and looked for bonefish and barracuda while the water was high, though we never found either and started permit fishing in the early afternoon. I got out and waded after a single tailing fish that never showed up again after I got in to range, and that was the only interaction we had with the permit we needed for our scorecard. Kat threw the spinning rod for cudas while I looked for permit, and had some really cool fishing at some giant ones that were sitting in a sand spot at low tide (she got two great bites), but the only fish we were able to catch was one that I got on the tube lure with a cast near the end of the day.
At the dock, there were three teams that were able to catch all three species, and they made up first through third. Luke Kelly and his wife Sarah were in third, and Pat Bracher guided his six year old daughter Charley to second place. First place was retained by Brandon Cyr and Nick Labadie, who took top honors. After fishing with them before the tournament I was happy for them but completely unsurprised: both are great guys and guides, and they earned their win without a doubt.
Tomorrow I'm fishing with Joe Skrumbellos, a report will follow.
nate