I left off on these reports when I was getting ready to leave for Nez Troutland, and though I intended to finish out the fishing I had done until our departure I was unable to do so. I'll be brief (probably because of the jet lag).
Ian and I took the Monday after our last adventure off, and when we discovered we had a shared day off on Tuesday we couldn't turn down the chance to get out again. We started off looking for permit, and were soon overrun by large barracuda. We threw flies at the fish as they snaked in and around some white patches, getting some to turn before we figured out what they wanted and started to force some errors. The fishing continued as the barracuda kept coming into the tide, and within three hours we had four bites and had caught three over 40 inches. Here's a picture of one: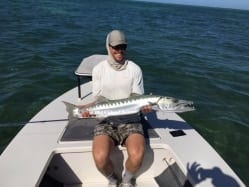 We hooked a giant fish from behind a shark that I thought might be over the magic 50-inch mark, watching the large fish wiggle easily to chase the fly down. It bit and ran 30 feet before stopping and jumping at the boat. The fish then swam over to the white spot it had been laying in and sat there, glaring while we figured out what to do next. In the mania we were left with too much line in strange places, and Ian backed up the boat so we could get the fish on the reel. Even after firing up the motor and kicking it into gear nearby the giant sat and stared at us from his white spot, chewing unhappily on the shiny fake needlefish. In a minute the chewing paid off and the fly was in tatters unattached, and we sat down to re-rig. Ian spotted a pair of permit heading our way, and I grabbed the smaller rod and made a toss in their direction. The fish were interested but couldn't find the fly, and I threw at them again as they passed. This time one spotted it as I was picking it up to re-cast, wiggling after the disappearing crab. The third cast was maybe the least perfect of the three, but I resolved to leave it and let the fish do the finding. It didn't take long, and after a long strip to get some attention we were tight to a nice permit. Ian grabbed the animal and we took some pictures after it was in the boat: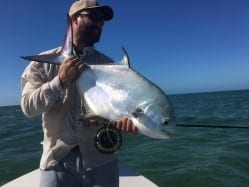 After that we were content to look for another, and it took a few hours of fishing and a dropped bonefish for things to happen. We had a smaller pair of permit cross a white spot in front of the boat and we got the fly in front of them for the bite. This fish didn't require us to start the motor, and after poling it down Ian got ahold to the little guy: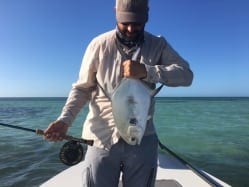 We tried to stay out a bit longer, hoping for a last fish of 2016 but finally heading home.
I went out for a day yesterday with Ian, which I'll upload when I can. New Zealand might make it up here in some form or another, and after that I'll be current. I've got a big month coming up, and I'll be getting lots of raw materials for these reports. We've got the Cuda Bowl at the beginning of next month, a trip with Steve before that, and Michael Hetzel will be coming down to fish with John for a few days and I might join in for part of that.
More to come,
nathaniel