Fishing with John and Chad
Earlier in the week I fished with John O'Hearn and we were joined by Chad "Chadillac 305" Huff. Chad's been honing his permit blade ever since getting his first (and second, in a wade-off win) with John and me in August, and we were hoping that this trip was going to be a chance at his third. Other than Chad's hunt for more, this was also an opportunity for me to throw some 4 pound tippet at fish with an extra set of capable hands on deck. It was also a chance for me to get my hundredth permit on fly, having slid luckily into the 99 spot with Ian over the last two weeks. We grabbed the rods and piled into John's skiff on Monday morning full of expectations and ball busting humor.
John made a call to start us out in a place where we had seen some fish over the last few weeks, and while the sun was still low we spooked a few fish off before relocating. John brought us to another place, and there Chad had a great shot at a hard tailing pair of fish. The wind conspired to make things harder than they should be, and Chad remained ready despite the avalanche of guff giving that followed from the back of the skiff. As our morning progressed, Chad had a few other opportunities. The first was at a school of permit waking around the flat, and his offering was flatly ignored. The next was at a large single fish that also politely declined, and with that I got up for a few shots. I had one at a similarly disinterested group of permit, and when John made a call to cover some ground we were ready for some new targets. When we arrived on the flat John said we should stop screwing around and just catch number 100, and handed me the 10 weight rigged with 16# to force the issue. I stood up there and had a shot at a very large single permit swaggering down the bank, and we again watched a giant fish utter a polite "no thank you".
I had another shot at a huge single fish that sat suspended staring at the bottom, and while this fish didn't bite either I decided that it was time to stop screwing around and throw some lighter tippet. This elicited a cacophony of howls from the hyenas behind me, but we were in the play by play and didn't think we were being as irresponsible as we were. A large suspended single fish gave us another no thanks, and when John spotted a school of permit we were glad for multiple targets to throw at. With the 8 weight and the tough wind I was doing a pretty poor job of getting the fly where it needed to be, but on the third or fourth cast John muttered "that's gonna work" and we all got to watch as it did. The school of fish looked to be populated with some large examples, though after the first run we were sure this fish wasn't record material. We weren't going to give up on this fish, being a permit and all, and we stuck with it for 20 minutes before we got the fish floated and in the net. Here's what it looked like, a perfect fish on light line and a great way to usher in the triple digits for me: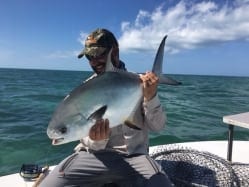 After this fish we were in more than a good mood, and Chad hopped up on the bow after the requisite pictures and talkabout to try his luck at his own. The first shot was at a large single tailer that evaded our efforts by staying just outside of our range. A small group of permit gave us another great shot, and while Chad made a valiant effort in the wind it was intercepted by his midriff, which took his final back cast lovingly past the barb. The fish stayed feeding, and Chad gingerly stepped down as I grabbed the 4-pound rod for a shot that redefined optimistic delusion. I had a good cast into the group of fish as they bored into the flat, and while one took a hard look we ended up with nothing when the scattered from the boat now just twenty feet away. While Chad performed minor surgery on himself we had another shot at yet another group, and I took this one as well while Chad was in the OR. I thought we had good chance of the fish climbing on to the hook, but again the fish fled before one would commit to a mistake. Chad re-rigged his weapon and stood on the bow, now ready for his next shot.
Chad had three opportunities at small groups of permit, and in two of these situations I felt sure that he was going to come tight. Such treatment, despite by a fish that rarely rewards fairly, had us howling over just how asymmetrical it all felt. Chad remained up for the remainder of the flat, and the last shot was at a single that swerved at just the wrong moment. We picked up and left for elsewhere, finishing the day up at the next spot. Chad had another cast in front of harm's way, and this time I was so sure that he had the fish eat the fly that I even said out loud "that fish has to have it" before watching the fish perk up to the boat and weave hard off the flat. We finished the flat out and headed home, ready for tomorrow.
Day 2
When we woke up under a thick cloud cover we were glad for our previous day's success, though at the same time we were confident we might find something to throw at. Chad was up first, and had what we later called a solid one and a half shots. The first one was at a single tailing fish that he waded to, and the fly landed in a place we thought might get it done. The second (half) shot was at a fish that pricked up a fair way off the boat, and Chad's long walk in its direction gave it a chance to find some deeper water and effectively disappear under the reflected clouds. We threw a cuda tube on a spinning rod while we scanned for tails, and finding no tails or teeth made our way to fresh fields.
Figuring the fishing was going to be tougher today than yesterday, I stepped up to the bow and took a turn, hoping to cede the bow back to Chad at some point. The fishing slowed to a crawl for the rest of the day, however, and Chad made easy work of what barracuda we came across with the spinning rod. I could give a play by play of the constant looking but not finding but I've got better stories to tell, so I'll just abbreviate the middle 7 hours of the day that produced zero shots at permit and get to the good stuff.
At our last flat, having not seen a fish for the last five or six, John spotted a single tail about a hundred yards away. I got out of the boat with the 4 pound rod and commenced to give it a walk, but didn't see anything when I got in range of the activity. I waited for a while but saw nothing, and shrugged off the offer to get back in the boat in favor of staying on foot. I spent maybe 20 minutes aimlessly bumbling around, finally getting called over to a surface disturbance about fifty yards from where I was stood about to give things up. I stalked into what I wasn't sure was anything at all, looking for an indication that the commotion had been permit. Soon I saw a large smooth back sliding around on the flat and got a cast off in its direction. The cast didn't land where I wanted it to, but the second one did and I got to watch the smooth back get propelled upwards by a soon dry tail that shivered as it ate the fly.
I must say that the moment a permit eats the fly in shallow water is tops on my list (a possible tie would be a large tarpon, especially in a tournament), but to have it done at eye level and soon realizing that this fish might be over 24 pounds and to be rigged with 4 pound tippet made things a lot brighter and shinier than I've been privy to in the past. I cleared the fish to the reel and walked in its direction as John and Chad idled over to pick me up. The water was so shallow that all I had to do was step onto the deck and turn around to begin a fight with what we thought might possibly be a contender for the 4 pound tippet fly rod record.
I spent the first 10 or 20 minutes just going through the motions we had gone through the day prior, and this fish proved that it was in a different size class. We got a few fleeting glances at it in the water, but in the failing light and cloud cover things were still unclear. John and Chad put the fish around 20 pounds and I stayed hopeful it would be over 24. The fish became tangled in some sargassum, and when I jumped out of the boat to clear the obstruction I was seduced by the idea of chasing after it on foot and Chad bailed out with the net to lend me a hand if the end game approached. After ten minutes of stumbling after the prize the fish decided to move into some deeper water, and we got back into the skiff to give chase under propeller power. A quick turn caused Chad to bend the hoop of the net on the flat as he tried to help John spin the bow, and when Chad tried to straighten the metal it broke. We were left with a near record permit on 4 pound test, cloud cover, and a broken net.
In a few short minutes the fish tired, and we slipped the net under it without further issue. When we got the fish in the boat we weighed it even though we were convinced it wasn't over 24 pounds, and a solid 20 on the certified scale confirmed we were four pounds shy of Del and Steve's current record. We celebrated our success anyway, taking some pictures of the animal before letting it go. Here's a look: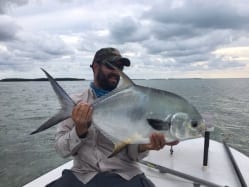 With the day pretty much over, we let our euphoria accompany us to the dock and headed home.
I'd like to thank John O'Hearn and Chad Huff for a fantastic two days of fishing and fun, and I can't wait to do more fishing with them both. I've got three days next week with Chad and Steve in pursuit of the six, and if this recent trip was any sign of things to come I can't wait to see them. I'm fishing with Ian on Monday and likely Tuesday in final Merkin prep mode. After I get back from the Everglades the Merkin happens, and I'll be with John O'Hearn once again. Much more to come as always.
nathaniel