Since the last post, I've been able to get out on the water a fair amount. Keeping my life as simple as I can has meant that when things slow down (and often when they don't), I'm able to focus only on the fishing. When the summer stalls things in Key West, I'm inevitably happy to be fishing more. This time of year that means permit, and with the addition of the IGFA permit tournament in October I'm even more motivated to refine and practice what we're doing on the water in hopes of performing under pressure.
I fished with Ian Slater for a few days two weeks ago, and on one of these days we decided to do some exploring. On this day, while we didn't have many shots, we had a pair of chances that both worked to our favor: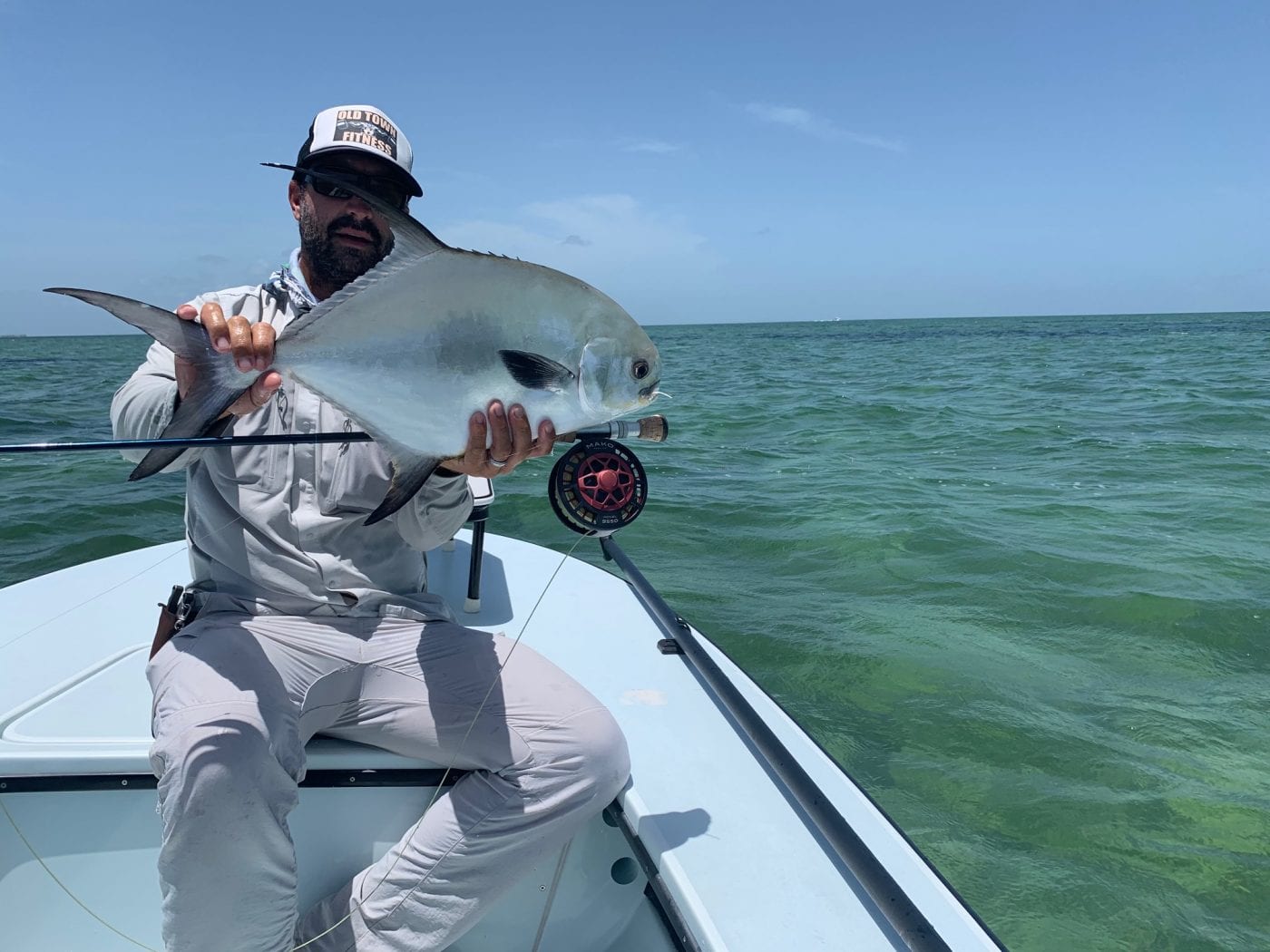 The rest of the day was difficult, though the satisfaction from catching two fish in places I'd not caught one before was hardly dimmed by the lack of solid and consistent fishing we had. After that we spent a pair of days fishing closer to home, and what occurred was something that I have yet to figure out. As in the Del Brown last year, we had fish weaving and elevating behind the flies we threw, making it hard to believe when we stripped each time that we were not in contact. Of the dozen or so shots I had, it was only the first one that gave me chance to hook up. This one I summarily butchered when the fish ate so close to me that the leader was in the rod tip, and I was unable to connect solidly. After that it was a mix of frustration and exhaustion at the behavior towards our flies, though in the end Ian and I settled in to a kind of wonder that accompanies closely feeling like we had no idea what the hell was happening. The following day we made changes, switching to flies made to look like something else, and again we were dismayed at the same rush-and-stop from the permit. We finally threw our hands up and went back to what we usually throw, and after one shot at a school connected with a small permit that confirmed clearly we were trying to feed feathers to wild unpredictable animals: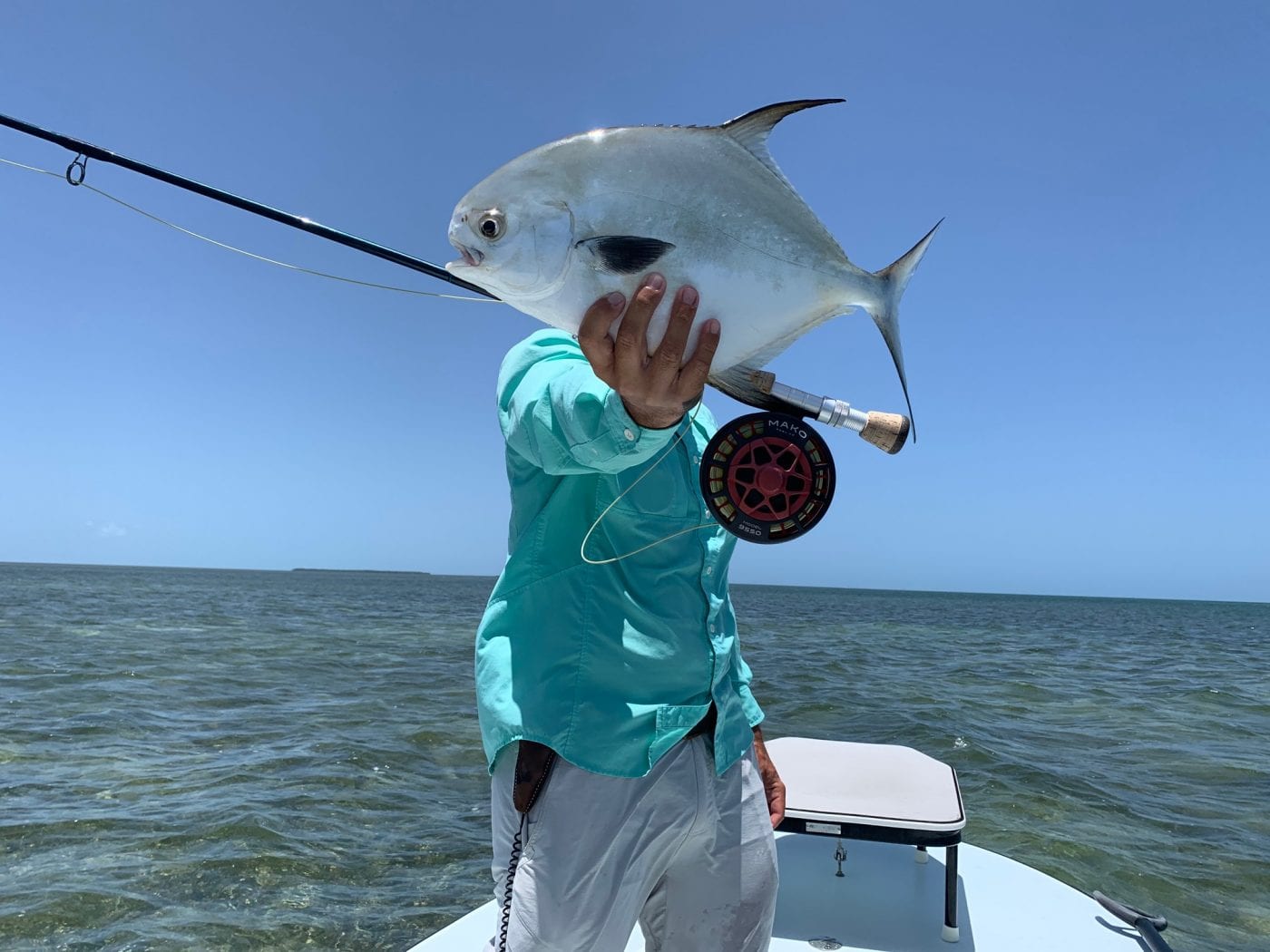 After the days with Ian I fished with Nick Labadie for an afternoon, and it was relatively amazing. We had a number of shots at permit, and while we ended up catching one I would be bending the truth if I didn't say we might easily have caught more. I connected with a massive fish that ate the fly while sliding around with its back out of the water, subsequently watching with sadness as the fly come back at me after 20 minutes of pulling on the beast. I botched a shot at a school of smaller permit, and I also came briefly tight to another fish from a large group that somehow got rid of the fly before I could get it on the reel. The one we caught came from a shot that I couldn't have screwed up, though when I got the fly wrapped around my running line I appeared to be giving it my best shot. The fish stood patiently by while I got my side of things sorted, and even my apparent best efforts to screw things up couldn't derail the permit train that Nick had put us in front of. This fish we landed without issue, getting a nice shot of Old Swamp Lips in the gloss of a summer afternoon: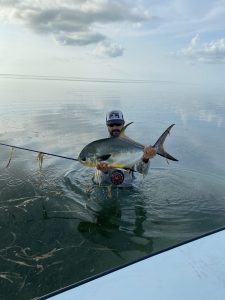 After this I fished for a day with Simon Becker and Dave Dalu, which for me was a special treat. After a tough day with John and Dave the prior week, I felt like this was a chance for the fish to cooperate. Sadly and instead, we were met with zero permit to meet our efforts. Dave managed a capture of a large bonefish, which we snapped a picture of quickly to minimize its time out of the warm water, and we had a blast.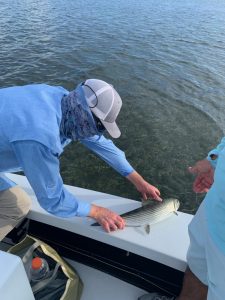 Kat is out today with Chad and Brandon, looking for her own permit on 2lb tippet, and I'm working in the shop and getting ready to fish Tuesday with Brian Stilley. More to come.
Nathaniel